As
Deborah Kerr
solemnly rested her cheek against
Yul Brynner
's hand in that final frame of
The King & I
, there was robust, nostalgic applause. But as the lights came up, the heads of the audience did not stay fixed on the credits, but turned backward to see a petite redhead dabbing at her eyes with a handkerchief several rows back. This was 75-year-old
Marni Nixon
, who had just performed onscreen in front of everyone's ears as the singing voice for Kerr, and who was a special guest at the Academy screening room on East 59th Street tonight.
Marni Nixon -- the ghostess with the mostess, that real-life Kathy Selden, the most famous larynx in movies -- has over the years grabbed little bits of the spotlight she was denied throughout the '50s and '60s, and last night she was grateful and humble, nevermind that if she had actually played the parts for which she had sung, she'd be the greatest star of all. Nixon was the singing voice for Kerr in The King & I (1956),
Natalie Wood
in
West Side Story
(1961) and
Audrey Hepburn
in
My Fair Lady
(1964), and provided supplemental vocals for
Marilyn Monroe
in
Gentlemen Prefer Blondes
(1953) and Kerr again in
An Affair to Remember
(1957). It's the greatest movie resume there never was.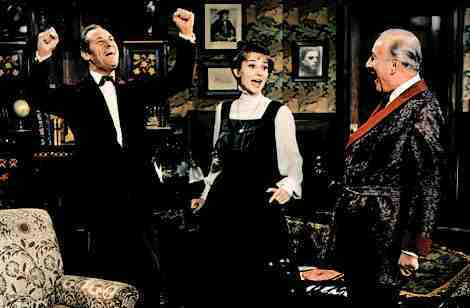 [It's funny because Audrey is learning to speak correctly while someone else is doing her belting.]
But Nixon, God love 'er, is just happy to have been a part of it. Before the screening of The King & I (newly restored in its proper and epic CinemaScope 55 format), Nixon reminisced about the process of dubbing -- how she learned acting from Deborah Kerr and how Kerr learned vocal form from her. How a public relations woman at 20th Century Fox told her that if she were to spill the beans on the dubbing, she'd never work again ("A woman who will remain nameless, mainly because I can't remember her name," Nixon deadpanned). How Kerr herself was the one who leaked the information that she didn't sing her own part. How she was worried
Julie Andrews
wouldn't like her when the two first met in
Robert Wise
's bungalow on the set of
The Sound of Music
(Nixon played Sister Sophia -- "When I'm with her I'm confused, out of focus and bemused..."). She recalled Andrews marching through the cast to her, sticking out her hand, and saying, "Marni, I'm such a fan of yours."
In fact, Nixon's resemblance to Andrews is striking. It was then, it is now -- though one is American, the other British. One would attract attention anywhere she goes, the other would be unrecognizable, even to the most devoted film fan. Yet both were instrumental in Hollywood and on Broadway in the '50s and '60s.
But Nixon is getting credit now, in the form of events like these, where she is belatedly given top billing. "And now
The King & I
," announced host and Newsday arts editor John Habich, "starring Deborah Kerr, Yul Brynner...and Marni Nixon." Nixon was already walking off the stage at that point, and turned around to give Habich an "Oh stop -- you mean me?" look.
Nixon has stayed active since her dubbing days, though. She's since worked with Stravinsky and Bernstein. She was recently on Broadway as Guido's mother in
Nine
, as Heidi Schiller in the
Follies
revival, and as Aunt Kate in
James Joyce's The Dead
. Her autobiography will be released in spring 2006. Earlier this year, she completed a tour with
Steel Magnolias
and her one-woman show
Marni Nixon: The Voice of Hollywood
. Nixon also teaches voice and master classes and is always preparing for future concerts and recordings, her bio says.
The Academy which hosted the event owes her one of its honorary Oscars, but to fully celebrate her would be to fully celebrate the fraudulence of movies, I guess. Heaven forbid we expose Hepburn and Wood for what they really were -- pretty faces without the chops. Nixon wasn't just a pretty voice you could plug in to any pretty face. She conformed her soprano to character -- earnest and Latin for Maria, Cockney and shrill for Eliza, elegant and English for Anna. It's great chameleon work; if you were observant enough to conclude Wood, Hepburn and Kerr didn't do their own singing, it's still unlikely you'd conclude that the dubbing was all done by the same person.
As for
The King & I
itself, it was my first time seeing it. There was novelty in seeing it in 2.55:1, a ratio fit for, well, lavish musicals set in Siam. I had never seen Kerr in a movie before, and she reminded me of
Judy Garland
crossed with
Billie Burke
. Brynner, though, is a real ham in the role that defined his career, hands always in fists on his hips, pushing back his silk shirts to make sure his bronzed chest is always exposed. The man-versus-woman banter between the two leads is priceless and holds up very well (though the treatment of diplomacy and imperialism is a laugh). The music is forgettable and trite, but the sets make up for it in their sumptuousness.
What I found fascinating to experience and watch was the 15-minute digression into a dramatic interpretation of "Uncle Tom's Cabin" by the king's court. Unlike the Broadway Melody tangent in
Singin' in the Rain
, this one has a purpose, both in message and in spectacle. And though the end of the film is a tad packaged and sentimental, it's also strangely moving in its execution. A very un-musical-like way to orchestrate a standard musical ending.
After the second or third song, though, you forget that Deborah Kerr isn't actually singing. Nixon mentioned that dubbing was very much a collaborative effort -- Kerr had to make sure her face and throat and motions were matching the vocals, and Nixon had to make sure that her vocal tones could theoretically come from Kerr's frame and character. They executed this by doing the blocking for musical numbers together, and by singing together. The cooperation manifests itself on film as virtual seamlessness.
So Marni Nixon was very much out of everyone's mind until we got our coats on, turned around, and saw that petite redhead sitting teary-eyed in the back row. We'd forgotten about her, which means she did her job beautifully.