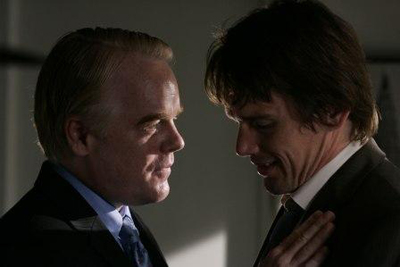 I was very excited for your new movie,
Before the Devil Knows You're Dead
. "Enthralling," said Edelstein. "Furious and entertaining," said Denby. A "superb crime melodrama," said Ebert. "This is a movie, I promise you, that grabs you and won't let you think of anything else."
I don't really agree with any of these snippets, and it's killing me. It couldn't have been the subject matter;
no
good movie is ever depressing. Then why did I walk away from it so deflated? I feel like you let me down. I think it's because for the first time, I didn't feel anything for your characters, who, as written by Kelly Masterson, make illogical choices. I never realized how much empathy or sympathy mattered until the credits started to roll and I felt only an
absence
of feeling. It felt like indifference. Like a vacuum. I hated that feeling.
I'll grant you this: you've coached the men to perform admirably. Hoffman, Hawke and Finney (with whom you worked 33 years ago on
Murder on the Orient Express
) are dynamos. But your movie doesn't buttress their performances with any real heart or brains. I guess I was longing for something to cling to -- like I did to Paul Newman in
The Verdict
, Treat Williams in
Prince of the City
, William Holden in
Network
, Al Pacino in
Serpico
or
Dog Day Afternoon
, Rod Steiger in
The Pawnbroker
and Henry Fonda in
12 Angry Men
.
The critics are praising your "return to form." You're 83 years old, and they're saying you've directed with the vigor of a man a third of your age. And maybe you have. The movie is slick, focused, violent, aloof. But it seems that you've also made some of the fundamental mistakes of a man a third of your age -- sacrificing nuance for bizarre plot economy, for example. My first thought was there is simply
too
much subtext in Before the Devil Knows You're Dead. But then I started thinking there wasn't any subtext. There was just a vacuum. A radical departure.
I'm sorry, Sidney. I'm so glad people have received your movie with open arms. Lord knows you've needed an unqualified hit. Maybe one day I'll see it again and realize I've missed something. Until then: Stay alive, stay true to yourself, and see you next time.
With love,
J.J.