But Toronto. The 30th Toronto International Film Fest, the continent's glitziest fest, the New World's answer to Cannes. I was there Friday and Saturday and saw a less-than-ambitious helping of six films. I would've tried harder and stayed longer, but I was tired. I even forsook the schmooze and fluff -- skipped the
Brokeback Mountain
party last night in favor of heading back home to get some sleep.
To more pressing matters:
1.
Mrs. Henderson Presents
. First movie I saw. Early morning screening. What a delight. I hadn't even heard of the movie, and I knew nothing going in. Based on true events before and during World War II in London, Mrs. Henderson stars Judi Dench as a wealthy widow looking for a hobby and Bob Hoskins as a theatre impresario looking for some cash. You can fill in the blanks from there, but what's unexpected is the type of venture on which they collaborate (OK, it's nude vaudeville). Stephen Frears directs, and he really stirs the comic chemistry between Dench and Hoskins, who are perfectly matched master entertainers. The film is part musical, part war movie, part romance, part comedy, part Bob Hoskins' part (if you know what I mean). In short, true, pure enjoyment. Should make a splash. Opens Dec. 25.
The splendid Kelly Reilly as one of Judi Dench's "talented" "employees."
2.
Brokeback Mountain
. Those who want to see hot, steamy sex between Heath Ledger and Jake Gyllenhaal might enjoy the movie, but those who want to see a stirring love story will be stirred and shaken. It's based on an Annie Proulx short story about two cowboys in 1963 Wyoming who fall in lust and then in love. It spans 20 years, as each goes on to marry and have kids, though their family lives are withered and hollow compared to their relationship to each other -- an enduring affair best exemplified by a wondrous and moving shot of Ledger standing tall, masculine, defiant in denim and cowboy hat, as fireworks burst behind him, symbolizing the rapture he hides. It's a sad but important movie, all about preserving a love when it seems to be everyone's business but the two who are in it. Opens Dec. 9.
One bad thing about the movie is that everyone's sideburns look really fake.
3.
Capote
. Everyone seems to be ga-ga over Philip Seymour Hoffman's performance as Truman Capote in this quasi-biopic of the writer's saga constructing In Cold Blood. "I've never seen anything like" Hoffman's performance, wrote Joe Morgenstern in the WSJ. Uh, OK. Hoffman, for sure, is his usual chameleonic self. He's undetectable behind thick-framed glasses, expertly coiffed hair, and the high, mousey Truman voice. In short, he nails the impersonation. But the film did not hold my interest in its story, or Capote as its protagonist. I found it (and him) cold, sterile, lifeless, tiresome. Morgenstern also wrote that Catherine Keener's performance as Capote's pal Harper Lee is "the best thing she's ever done." Huh? She's not given one good scene, or even one good line. She is underused and misused. It made me sad. (Has Morgenstern ever seen Keener in
Lovely & Amazing
?) Just because a film reeks prestige doesn't mean it's prestigious. Opens Sept. 30.
Watch Phil and Cathy drown in dreary, poorly-written famous-people roles.
4.
Be with Me
. This would've made a glorious 40-minute film if two of the three storylines were snipped out. The credits say the film is inspired by the life of Theresa Chan, a deaf and blind woman living in Singapore who plays herself. And if Be with Me would've stuck with her storyline -- about her will to cope with and enjoy the world -- it would've been a triumph. Instead, it's a good movie with a lot of heart that rambles a bit too much on inconsequential sub-plots. Pity, but certainly worth it for Chan's bit. Release date TBA.
5.
The Devil & Daniel Johnston
. Documentary on the titular manic-depressive songwriter. As far as documentaries go, this one is unusually artful and graceful while being considerably upsetting at points. The film is aided immeasurably by a wealth of primary source material as well as very candid interviews. Opens March 31, 2006.
6.
A History of Violence
. Wow. Finally a cathartic moment at the TFF -- the gala North American premiere of Cronenberg's latest with him and the cast in the house. Stars Viggo Mortensen and Maria Bello as a loving couple and Ed Harris and William Hurt as sinister shadows who come to haunt them. The film is based on a graphic novel, and I assert that this is the movie
Sin City
tried to be. I can't explain it. But the experience was shocking, moving, wonderful. There were scenes and sequences so taut with suspense and drama -- let's just say if you plan on seeing this movie (and you should), read nothing about it. Go see it as soon as it opens, before anybody spoils anything. It is a sleek thriller (at a blissful 90 minutes), a humorous tragedy, a heartbreaking love story, a remarkable commentary on violence and forgiveness and absolution and damnation. Opens Sept. 30.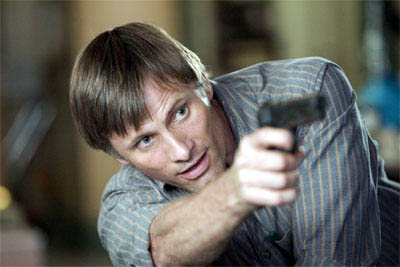 Could've used that piece in Middle Earth.