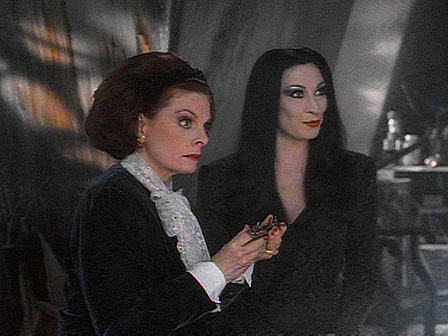 A fun fact before we start: Grey Garden's Mary Louise Wilson played dressy Tessie Tura opposite Angela Lansbury's Mama Rose in the 1974 Gypsy revival. Both Wilson and Lansbury are nominated for Tonys this year at ages 74 and 81, respectively (and current nominee Christine Ebersole played Tessie Tura in the Bette Midler Gypsy in 1994). Anyway, as you can see, I'm finally getting around to looking at the Tony nominations. I've pulled out some nominees to flag their sterling (if abbreviated) film work. I love seeing Broadway greats slumming in silly movies to make a buck, and I love seeing their talent blaze in material that actually deserves them. Their film work, regardless of pedigree, is always enjoyable.
Dana Ivey
, Butley.
She's never won a Tony! Madness. I love how committed she is to the weirdness of The Addams Family and Addams Family Values (above, with Anjelica Huston), in which she plays a haughty woman who slowly succumbs to the romantic wiles of Cousin It.
Frank Langella
, Frost/Nixon.
Admire him for
Dracula
-- it was the start of a long film career playing baddies. My favorite is his slimy work in
Dave
as the jealous White House chief of staff.
Brian F. O'Byrne
, The Coast of Utopia,
has a crucial role as the Irish Catholic priest engaging in spiritual joust with Clint Eastwood in
Million Dollar Baby
. O'Byrne's dark, worldly portrayal is definitely not
Crosby-esque
.
Billy Crudup
, The Coast of Utopia.
His flawless, charismatic performance as Stillwater's frontman in
Almost Famous
shoulda been a starmaker. It's probably better that it wasn't. Crudup is top-knotch in anything he does, unless the material is
crap
.
Audra McDonald
, 110 in the Shade.
The woman with the Midas touch. She's peachy in 110 and perfect perfect perfect as the nurse who attends Emma Thompson in
Wit
.
Debra Monk
, Curtains.
I didn't much like Solondz's
Palindromes
, but Monk is hilarious and damn frightening as the crazy Christ-obsessed mother of a flock of handicapped children.
Jennifer Ehle
, The Coast of Utopia.
She outshines her temporal counterpart Gwyneth Paltrow as one of the four leads in Neil LaBute's time-jumping, now-forgotten romance,
Possession
.
Christine Ebersole
, Grey Gardens.
She plays a nasty governor in the Farley-Spade movie
Black Sheep
, delivering zingers with classically-trained bitchiness: "Neushwender are you finished stirring that drink or is this some kind of fucking science experiment?" and, as she notices Chris Farley being strung up by his underwear on a satellite dish during a stump speech: "I have heard the voice of the voters and the voters said...
holy shit
!"