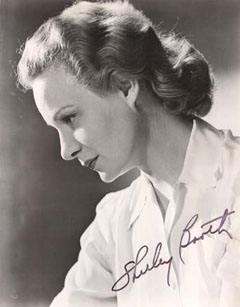 SHIRLEY BOOTH
,
1898-1992. Triple crown achieved at age 63 in 1962 with an Emmy for outstanding continued performance by a lead actress in a series for Hazel. Preceding it were three Tonys for dramatic roles -- best featured actress for "Goodbye, My Fancy" in 1949, best lead actress for "Come Back, Little Sheba" (1950), best lead actress for "Time of the Cuckoo" (1953) -- and an Oscar for lead actress for Come Back, Little Sheba (1952). Followed by another Emmy for "Hazel" in 1963.
She was acclaimed for never having given a bad performance,
according to The New York Times
. This is totally believable, given that she was only in four movies ever. Her stage and radio credits were much more extensive and her legacy was truly cemented by her television work -- specifically "Hazel," that cutesy-tangy domestic comedy from the early '60s. Booth played a sassy, dowdy maid. Nothing like a sassy, dowdy maid to jolt the archetypal stasis of the mid-century American family. The show's damn boring but very populist. Like a latter-day "Two and a Half Men." (Sidebar: Is there anything more depressing than the phrase "season premiere of Two and a Half Men"?) Bleh.
She hit the jackpot with Hazel and was lucky and prolific with roles on stage (600 roles in stock before she went Broadway) but rarely parlayed them to film. Three other actresses earned Academy Award nominations for recreating Booth's role in film versions of her plays: Ruth Hussey in
The Philadelphia Story
(1940), Rosalind Russell in
My Sister Eileen
(1942), and Katharine Hepburn in
Summertime
(1955). But she struck Oscar gold with the one role she did parlay to the screen (in her film debut): that of Lola Delaney, a housewife who is "old and a fat and sloppy" (Lola's words) and puts on a good face despite her brittle marriage to alcoholic Burt Lancaster, the child she miscarried years before, and the lost dog in whom she invested her maternal feelings.
In Come Back, Little Sheba, we first see Booth bumbling down the steps in her bath robe, her steel-wool hair frizzed, taking wide steps, scratching herself. Her voice is like Fran Drescher sucked a bit of helium. Kind of like Estelle Harris, who played George Costanza's mother on "Seinfeld," mixed with Jean Stapleton. Booth as Lola is all jambs and shanks and milky limbs. Maybe she used to be pretty. Maybe not. She lumbers around, always on her toes. She has the let-me-please-you demeanor of a labrador, panting and excited and tail wagging, but quick to shrink when accused or abused. It's one of those performances that appears very static for most of the movie, with subtle choices showing the truth beneath the ignorant exterior.
These choices won Booth the Oscar. When she listens to a silly radio program, she starts dancing and then lays down on the couch and goes into a kind of trance. The exotic music takes her away
and
makes her more conscious of where she's trapped. Her eyes water a bit. Then there's the way her face starts to crinkle when she realizes Lancaster is backsliding. Or her subtle and perfect reaction when Lancaster mumbles a term of endearment during a alcoholic haze: a twinkle of a tear, but no tremor. She lifts her face and head slig
htly, as if she's inflated with just a little bit of self-worth. "That's me," she says.
And then there's that final monologue when she describes a dream, her eyebrows bobbing up and down expressively. "Dreams are funny," she concludes.
Reviews of all her stage performances were glowing. "The stage begins to glow the moment she steps on it and the audience melts, like a crowd of children whose imagination has been captured by someone they trust," Brooks Atkinson wrote about her in the 1954 musical "Two if by Sea." "No one else in the theater has made native decency so human, so triumphant and so captivating."
Booth exemplifies the archetype of the triple crowner. She earned her reputation on the stage, carried that to less extensive but equally valuable film work, and then won a pair of courtesy Emmys for bothering to stick with a primetime role for six years. For what it's worth, Booth was happy to be doing Hazel. "Why not enjoy Hazel's success?" she said to a colleague. "I'm as pleased as I can be. I like my work."
The is part four of
The Triple Crowners
, an 18-part series celebrating the actors who have won an Oscar, an Emmy and a Tony. Check back soon for part five.