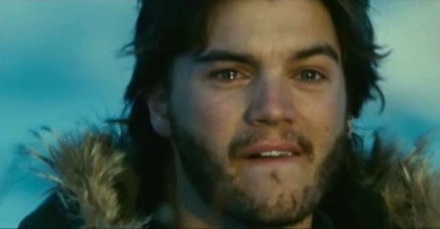 TELLURIDE, Colo. -- Sean Penn made two movies and they're both swirled together and slapped with one name:
Into the Wild
, based on the book about Chris McCandless, a 23-year-old guy who gave up his life of privilege for the life of a vagabond, traveled the U.S. to pursue his version of happiness, followed some unattainable ecstasy to Alaska and died of starvation -- alone and presumably repentant. About half of the movie is great. The other half is bewildering and/or very unfortunate.
(Sidebar: I balked when I read
Nick Davis' lust letter to Penn
, but seeing him in person today at the Palm Theatre made me a convert.)
Let me start the Oscar drumbeat now:
There are great moments in Into the Wild and most of them belong to
Hal Holbrook
, who plays the last of many people encountered by McCandless (Emile Hirsch, in a serviceable performance). Holbrook is charged with delivering the film's thesis, and he does so in a moving, measured, beautiful supporting performance. Without him, the film would be flimflam. I will not reveal more, but the movie is worth seeing simply for him.
The other "half" of Into the Wild is too slickly produced, too musically scored, too Hollywood. Which is bizarre, given Penn's rebellious anti-establishment nature, and unfortunate, given McCandless' desire to loose himself from the bonds of the material world. All the tact and talent Penn displayed with his last feature directorial effort (
The Pledge
) is mostly absent here. Yes, McCandless' journey is romantic (and of the early '90s), but to score the entire film with Eddie Vedder songs? And to resort to slow motion and those big circular pans to convey a sense of the epic and the romantic? And to juice the drama with artificial cinematic technique when simple silence would do? Sigh. What makes it worse is that all of this is forgiven momentarity as the movie deftly and profoundly approaches its climax, but then all is torn asunder by the most cliched and inappropriate final shot (hint: it's one of those crane/zoom-out moves that reveals a whole vista (bleh!), and the way that shot starts is a little grotesque and completely kills the momentum).
I will write more about this movie and its two faces. Part genius, part miscalculation. Argh.
The Savages
is a family drama that sidesteps most every convention of that genre and ends up saying nothing as a result. It's a weak little screenplay that addresses a topic fertile for drama: the putting away of an elderly relative into a nursing home. Laura Linney, as she usually does, acquits herself nicely. She's such a confident performer, and finds the right note regardless of the inferiority of the material. More on The Savages after the festival. But we'll end on Linney's brief but lovely introduction for the film today:
"I cannot thank this festival enough," she said. (She met her fiance here.) "It has changed my life." At this point she starts to cry, and the audience gives her an "aw" and applauds. "Enjoy the movie."