First, a disclaimer. I am the guy who picked Cheadle, Okonedo and Staunton to win last year. I don't bet safely and I frequently go straight for the underdogs, dark horses and no-shots-in-hell. Call it magical thinking. I just want an interesting, surprising ceremony -- which we haven't had since 2003, when Adrien Brody led a surprise charge for
The Pianist
(I did pick Brody, though, for the record).
That
was some good TV.
Last year, the frontrunners won. Sure, many deserved their awards, but it was an excruciatingly bland ceremony. By Oscar night last year, we already had a month and a half of Jamie Foxx, who seemed to be accepting one award or another in perpetuity. And then hey-ho'ing. Every single damn time. Boring.
But this year will be magical. It has to be.
I won't see all of the documentary features and short subjects until the weekend, so I'm abstaining from predictions in those categories. Buckle up. This is a long one:
VISUAL EFFECTS
Will win:
King Kong
Should win:
War of the Worlds
Kong is one long awe-fest, with sequence after sequence sopping with head-spinning (and sometimes nauseating) effects. We can lionize
Andy Serkis
-- patron saint of CGI critters -- all we want, but I'd vote for War of the Worlds for its comparative restraint, especially during the scene when the machines first start to unearth themselves. I can't believe restraint is factoring into this.
MAKEUP
Will win:
The Chronicles of Narnia
Should win:
Um.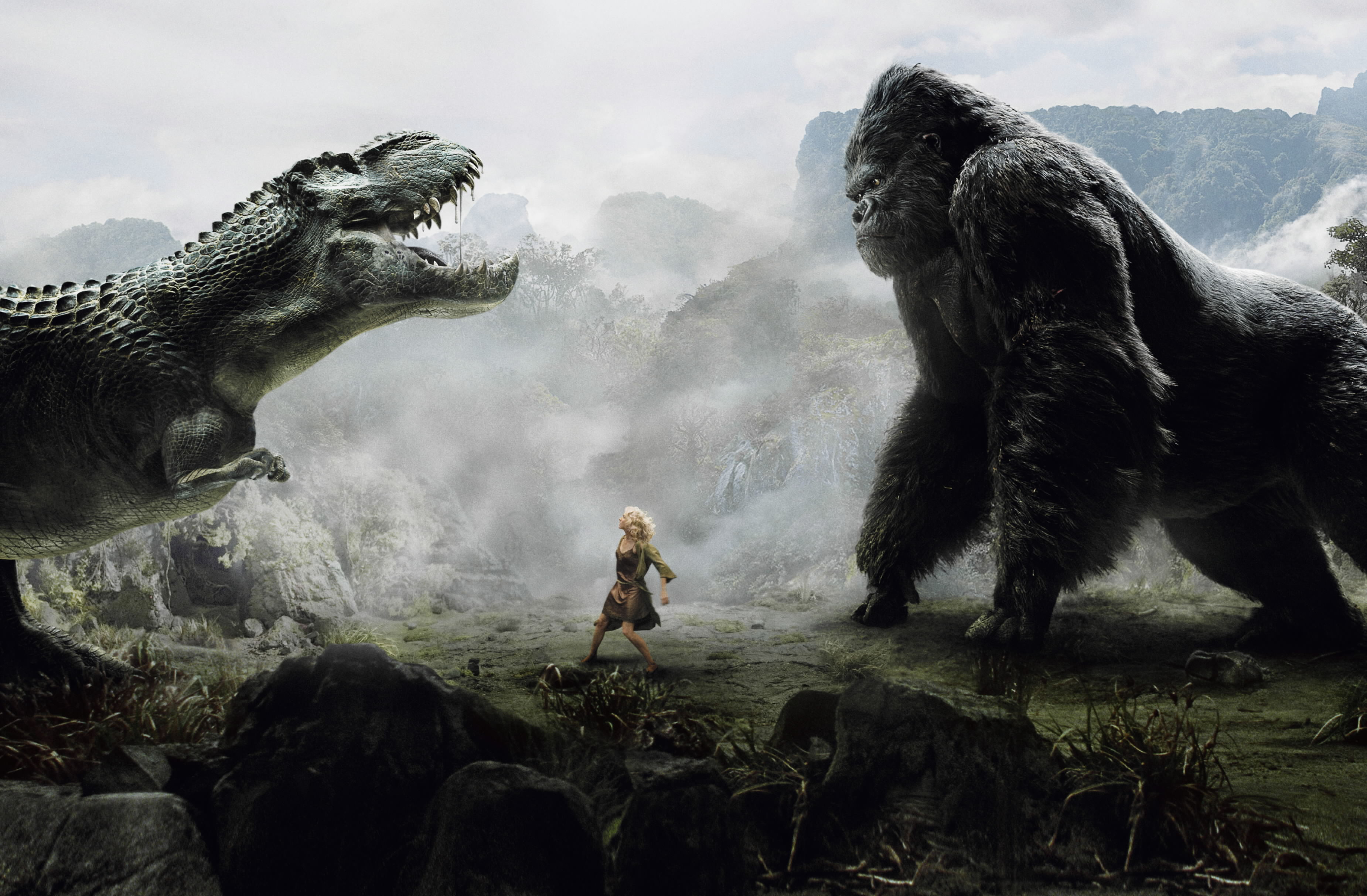 SOUND EDITING

Will win:
King Kong
Should win:
King Kong
SOUND MIXING
Will win:
King Kong
Should win:
King Kong
I vacillated between Kong and
Walk the Line
, which could follow the footsteps of fellow music biopic
Ray
, which won this category last year for its smooth interweaving of songs into the film's natural soundtrack. But Kong is just loud, and volume usually wins here.
Of note: Sound mixer Kevin O'Connell logs his
18th nomination
in 22 years, this time for his work on
Memoirs of a Geisha
. He is Oscar's biggest non-winner (besting Randy Newman's streak of 15 losses before he won in 2001).
FILM EDITING
Will win:
Crash
Should win:
Crash
This prize is usually reserved for the best picture, but -- oh look! Brokeback is not nominated here. The last time a best picture winner was not at least nominated for editing was
Ordinary People
in 1980. Curious. Crash is an editor's showcase, of course, though I'd give equal consideration to
Munich
, which is beautifully composed until the last five or six minutes.
ORIGINAL SONG
Will win:
"In the Deep," Crash
Should win:
"It's Hard Out Here for a Pimp,"
Hustle & Flow
"A Love That Will Never Grow Old" from
Brokeback Mountain
was disqualified because it plays briefly in the background during a scene, but "Travelin' Thru" didn't play during
Transamerica
at all. A delightful country romp by Dolly Parton, it played over the end credits. That distinction is ridiculous. This category exists only to draw viewers to the telecast. Last year, Beyoncé was the attraction. This year, well, the Academy gets what it deserves: a series of no-names, plus Parton. Not a ratings whore among them.
It is somewhat encouraging that two of three nominees actually play a dramatic part in their movies. But,
as I anticipated
, Bird York's "In the Deep" kind of
violates some rules
. So the only eligible nominee, as far as I'm concerned, is "It's Hard Out Here for a Pimp." Either way, this category should be reformed or abolished, and quickly. If the Academy is so concerned about the telecast's length, here's one time-waster that can be booted.
ORIGINAL SCORE
Will win:
Brokeback Mountain
Should win:
Pride & Prejudice
This should be part of the Brokeback "sweep," which really isn't a sweep in my book.
COSTUME DESIGN
Will win:
Memoirs of a Geisha
Should win:
Um.
ART DIRECTION
Will win:
Memoirs of a Geisha
Should win:
Um.
CINEMATOGRAPHY
Will win:
Good Night, & Good Luck
Should win:
Batman Begins
The American Society of Cinematographers awarded Dion Beebe for Memoirs of a Geisha on Monday. But ASC's winner has gone on to win the Oscar only six times in 19 years. It's that silly actors branch that does the swaying. They'll go for the obvious choice, as they've often done: the black-and-white cigarette-smokey grandeur of Good Night, and Good Luck.
ANIMATED FEATURE

Will win:
Wallace & Gromit in the Curse of the Were-Rabbit
Should win:
Um.
This will be animator Nick Park's fourth Oscar. Should be a balm for his
beastly bad luck
.
FOREIGN LANGUAGE FILM
Will win:
Tsotsi
, South Africa
Should win:
Um.
I've only seen Paradise Now, which is kicking up the requisite
mini-furor
, which was too late to ruin its chances. From its trailer, Tsotsi seems to be the feel-good, humanitarian choice. Ten bucks says Charlize Theron presents this category.
ORIGINAL SCREENPLAY
Will win:
Crash
Should win:
Syriana
Paul Haggis gets the Oscar he deserved last year for
Million Dollar Baby
.
ADAPTED SCREENPLAY

Will win:
Brokeback Mountain
Should win:
Munich
Say hello to the most awkward pair on the awards circuit:
Diana Ossana and Larry McMurtry
.
BEST SUPPORTING ACTRESS
Will win:
Catherine Keener,
Capote
Should win:
Amy Adams,
Junebug
No one fits the bill of a supporting actress winner better than Rachel Weisz. She's a
babe
, she's
young
,
pregnant
,
foreign
and has a fairly
sizable role
in her movie. But then there are non-babe brunettes who stun the crowd every now and then; Marisa Tomei and Marcia Gay Harden are the notables. So for me, it's Weisz (who fits the first mold) versus Catherine Keener (who fits the latter mold).
Adams gives the fullest, more engaging performance here -- partly because her role is written so completely, partly because she's got the talent and poise to match.
Keener's role is scandalously nonexistent. But this has been her year. Between
The 40-Year-Old Virgin
,
The Ballad of Jack & Rose
,
The Interpreter
and Capote, she's been in everyone's face. And people love her. And she already has a
previous nomination
. And this is historically a category of upsets. And Capote is up for best picture. Makes sense to me. There she is, below, with soon-to-be fellow winner Jake Gyllenhaal, in
Lovely & Amazing
.
BEST SUPPORTING ACTOR
Will win:
Jake Gyllenhaal, Brokeback Mountain
Should win:
Matt Dillon, Crash
Ooh, this one is hard. Thank God. Jake won the BAFTA, George won the Globe, Giamatti won the SAG, Hurt won kudos from both the L.A. and N.Y. critics. Which makes me want to pick Dillon, of course. So regardless of who wins, it's a surprise. I think that's great, and how it should be (and would be for every category if there were no pre-Oscar awards).
Mathematically, Giamatti has the edge, especially since he's developed an image as an Oscar-scorned actor; many SAG voters are also Oscar voters, and the actor's branch is far and away the biggest in the Academy. That oomph is bolstered by Giamatti's golden reputation with his peers. One problem: Cinderella Man has only one other nom. There is no momentum. And it's all about momentum.
If a voter wants to throw George a bone for his year of sterling work, it will surely be in this category. But how many people are concerned with making sure he doesn't go home empty-handed? I'd say a historic three nominations between two different movies is enough of a welcome.
Dillon has done a fair amount of pre-ceremony schmoozing, all under the humble guise of representing the entire cast. This is no doubt siphoning votes from Giamatti and Clooney. Folks are viewing his nomination as a career achievement, depsite the fact that he's in the middle of the pack, age-wise.
So dearest Jake is in the best position. His is one of three acting nominations for Brokeback, which has the most total noms and pre-Oscar awards of any movie. His very recent BAFTA win boosts his profile at just the right time. He comes from a Hollywood family (mother Naomi was nommed in 1989 for her
Running on Empty
screenplay, sister Maggie got awards buzz for
Happy Endings
). Also, his performance is a lead. Deserved? No. Inevitable? Yes.
Of note: Twenty-five-year-old Jake would be the youngest best supporting winner since 1980, the year he was born, when Ordinary People's 20-year-old Timothy Hutton won...for what was definitely a lead performance.
BEST ACTRESS
Will win:
Felicity Huffman, Transamerica
Should win:
Charlize Theron,
North Country
Get ready for the most hysterical acceptance speech in Oscar history. I fully expect Huffman to heave, shriek and spin apart into sequins and bits of ribbon before she gets to thanking Harvey Weinsten (her producer, shrewd Oscarman himself, who mailed Transamerica screeners late in the game, keeping the movie fresh in voters' minds). I mean, Huffman's last six months have been an extreme manifestation of the Hollywood dream: the upset at the Emmys propelled her to a corresponding SAG win and a Golden Globe for Transamerica. Suddenly everyone knows her, loves her, she's getting offers and awards, she's on magazine covers, and she's over 40. Golly! This is the hottest hot streak ever.
While I'm not enthusiastic about this category, Huffman certainly deserves to win over Witherspoon, whose acclaim and ascension to frontrunner status is mystifying. If she wins, she'll be the first to get there solely on pep. Or is it spunk? Either way, I'm sick of her. It will be interesting to see how she handles this extreme let-down after months of hype and campaigning and Southern charm.
But everything has lined up for Felicity. This is her year, definitely, for everything. She is the whole of her movie, while Reese is a supportive second half to Joaquin. And the role is an actor's showboating dream: a woman playing a man playing a woman, with bits of comedy and drama and ample opportunity to knock our critical socks off.
Of note: This won't be the first time an actress has won for playing a man; Linda Hunt won in '83 for playing Billy Kwan in
The Year of Living Dangerously
.
BEST ACTOR
Will win:
Philip Seymour Hoffman, Capote
Should win:
Heath Ledger, Brokeback Mountain
For the second year in a row, the winner will win because of his total transformation into an icon. Right, right -- acting is all about transformation, blah blah. But I'm weary of actors alchemizing into real people. I want characters, fiction, complete inventions that live and breathe on film and nowhere else. More succinctly, I want surprises. Whatever. If Hoffman's film wasn't also nominated for best picture, I might've predicted an upset. It would've been sublime to see Stathairn win. Phoenix, the only previous nominee, never had a chance, despite what people say. Mumbling duo Ledger and Howard cancel each other out.
BEST DIRECTOR

Will win:
Ang Lee, Brokeback Mountain
Should win:
Ang Lee
It's taken 78 years for a non-white guy to win best director. That is quite a streak. But then again, only one guy has won both the Globe and the DGA Award and then lost the Oscar: Ang Lee, for
Crouching Tiger, Hidden Dragon
. Gak!
BEST PICTURE
Will win:
Brokeback Mountain
Should win:
Any of 'em
They are all good films, but I don't feel strongly about a single damn one of them. So I won't be pissed off if Crash "upsets," or if any other wild scenario happens. I guess that's good, right?